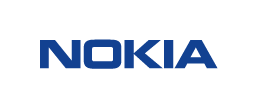 Nokia is an innovation leader in the technologies that connect people and things. We have the capabilities and global scale to meet the extraordinary demands and opportunities of a world where everyone and everything are increasingly connected. We're creating a new type of network that's intelligent, efficient, and secure, and advancing the technologies that tap its power through smart devices and sensors.

At Nokia, we've always been excited by where technology will lead us. Our business has evolved to adapt to a changing world for 150 years, but what we stand for remains true. Our vision is to expand the human possibilities of the connected world. We continue to reimagine how technology blends into our lives, working for us, discreetly yet magically in the background.

Today, we're shaping a new revolution in how people, businesses, and services connect with each other, creating new opportunities for our customers, partners, and communities.

We're weaving together the networks, data, and device technologies to create the universal fabric of our connected lives – where new applications flow without constraint, where services and industry automate and run seamlessly, where communities and businesses can rely on privacy, security, and near instant response times, connecting through the Cloud.

Our distinctive Nokia approach to designing technology for people guides us as we prepare the way for the Internet of Things, and ready our networks for 5G. We create intuitive, dependable technology, to help people thrive.

With over 1,900 employees, Nokia has an extensive team in Hungary serving local and regional customers and contributing to the development of global products and future mobile broadband solutions. In Hungary we focus on Cloud Optimized Technologies in Core Networks, Big Data Analytics, and Research & Innovation for 5G, IMS/VoLTE, Telco Cloud technologies and Rel4 Core.
Our Vision


Driven by the human possibilities of technology, we're creating a new type of connectivity through network and device technology that's seamless, intelligent, and secure. We're designing intuitive and dependable technology, to help people thrive.


Read more

Our Company


We are an innovation leader in the technologies that connect people and things, combining network infrastructure, software and services, with advanced technologies for smart devices and sensors to tap the power of connectivity.


Read more

Our Story


From Finnish roots, Nokia has evolved to embrace and prepare for every fundamental shift in the way the world communicates and connects, bringing technology expertise and leadership through the change.
Read more

Connect with Nokia
• Subscribe to receive our product news alerts
• Website
• Blog
• Twitter
• YouTube
• LinkedIn
• Global Facebook page
• Hungarian Facebook page